Personal Social and Emotional Development through SEAL
Hundreds of stories, activities, ideas, resources and pictures for promoting PSED in Early Years settings. Fully linked to the Revised EYFS Framework, and the Welsh and Irish Foundation Phase curricula.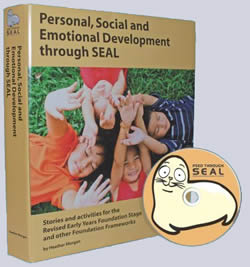 'An excellent resource which provides key tools practitioners need to develop children's social and
emotional skills such as self-awareness, resilience, motivation , empathy and social skills . These beautifully illustrated stories and activities will resonate with children's everyday lives, and are engaging, teacher friendly and represent best practice in Early Years education'.
Professor Katherine Weare, Advisor to Dfes on SEAL policy